Mountain Lion Grad Slam - 3-Minute Thesis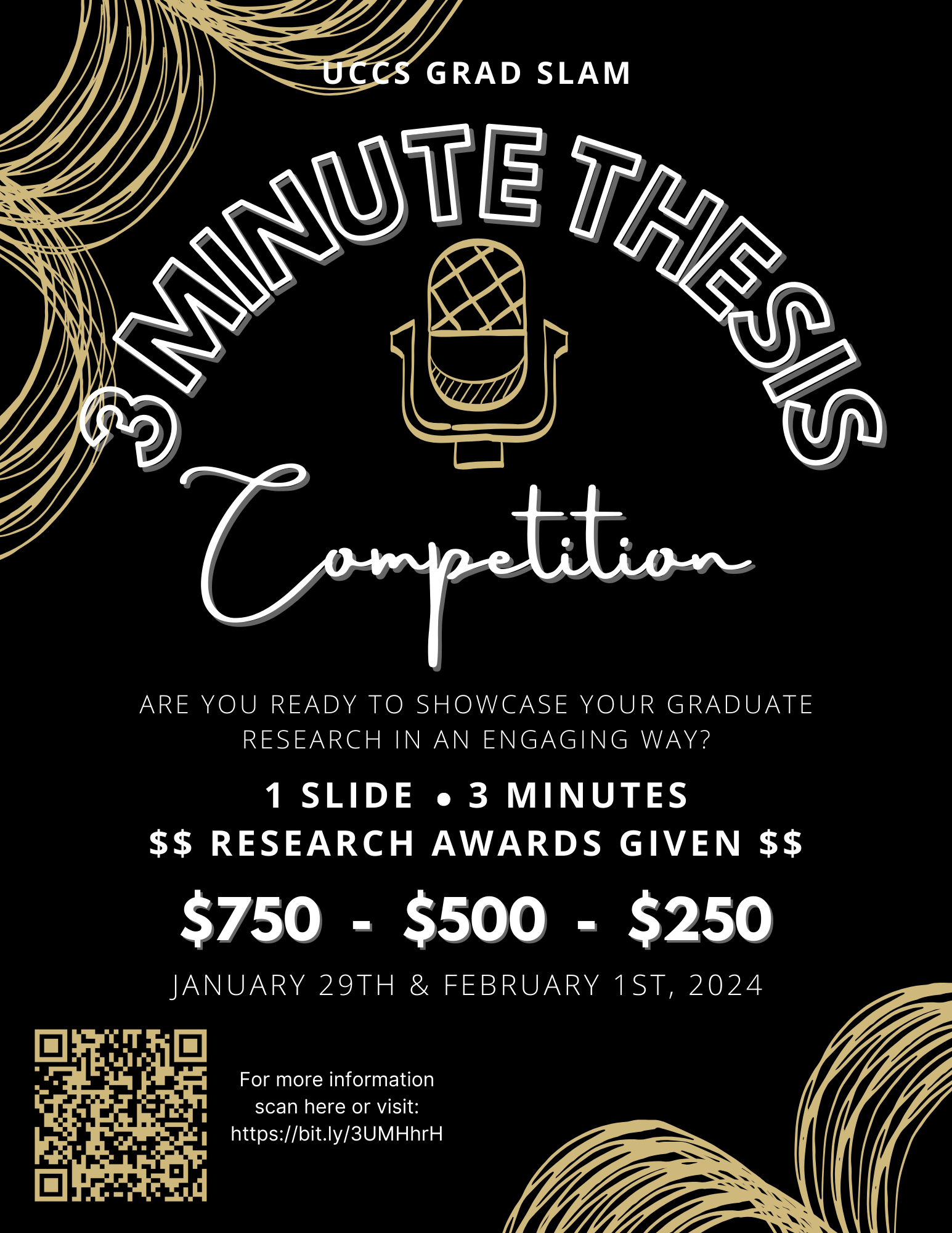 The UCCS Mountain Lion Grad Slam 3-Minute Thesis Competition is coming soon!
This is an opportunity for graduate students to explain their research and scholarship in an engaging way. This fast-paced research ROAR (get it? Mountain Lions roar, right?!) highlights the hard work accomplished by UCCS graduate students.
Thank you for your interest in the UCCS Mountain Lion Grad Slam 3-Minute Thesis Competition. The preliminary round for this event will take place Monday, January 29th & Tuesday, January 30th via submitted recordings. The finals will be in person at 3pm on Thursday, February 1st. You will receive an email with directions for submitting your recording for the preliminaries.
Awards will be $750 for 1st Place, $500 for 2nd Place, and $250 for People's Choice winners! Winners will be announced at the conclusion of the February 1st event.
A panel of UCCS staff, faculty, and alumni will judge each round using a scoring rubric. The UCCS campus community is all invited to attend the final round and join us when the winners are announced.
REGISTER HERE by December 15 (Priority deadline) or January 16 (Final deadline)
Email grad3mt@uccs.edu with any questions you might have!
Please be advised that your participation in the Mountain Lion Grad Slam event may amount to a public disclosure which could jeopardize your ability to obtain patent protection in certain jurisdictions. As a student, prior to participating and openly sharing the details of your project, you may want to seek legal counsel, speak with your advisor, or contact the Office of Sponsored Programs and Research Integrity regarding any disclosure you plan to share or otherwise present to get advice on how to protect any intellectual property that may arise from your project.